ACES - Advanced Clean Energy Storage Project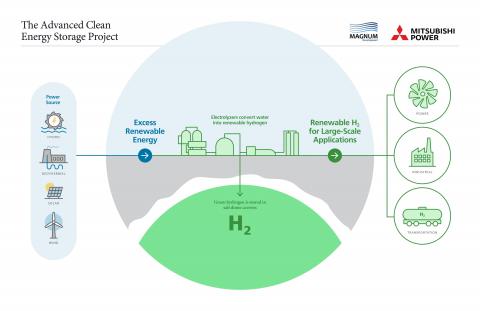 What challenges did you face during the processes of securing customer long-term commitment and stakeholder cooperation?
An important challenge to overcome, especially for large projects such as ours that require substantial upfront investment, is to acquire long-term binding off-take commitments from hydrogen consumers – "Hydrogen Production and Storage Agreements". It's the backbone of the project's de-risking architecture.
Given the size of the project [EUR bn 1], there are multiple stakeholders involved. Of course, cooperation and coordination of those requires commitment, trust and efficient ways of working, all of which we have built up over the years. It is important to note that engagement and acceptance from third-parties such as regulators, policy makers, environmental agencies, as well as the general public need to be earned through specific actions.
What specific measures did you take to overcome these challenges?
We engaged with entities of different sizes and from different industries/sectors early on to develop a broad range of potential off-takers. This increased flexibility and shaped different forms of collaboration, as well as further increased the visibility of the specific project in various industries and in the general public. Specifically, we are currently engaging with a large hydrogen off-taker adjacent to our site (in our case the Intermountain Power Agency, a power-generating cooperative of 23 municipalities in Utah and six in California). Around it, we are developing "pooling arrangements" for hydrogen off-take, with consumers from energy, industry and heavy-duty mobility – reflecting our ambition to become a large-scale inter-regional green hydrogen supply and storage hub (eventually also including a new hydrogen pipeline network). This will also allow us to get to the economies of scale we need on the cost side. When reaching out to potential customers, we made sure to highlight the investments already undertaken to de-risk the project, the planning and engineering progress, as well as the advanced permitting stage of the project due in large to earlier development of other salt cavern storage projects at the multi-commodity energy hub site.
A key element in our efforts to bring stakeholders on board, was building credibility about large-scale geological storage of green hydrogen and thus earning their trust in project development. First, we leveraged our extensive in-house experience of storing hydrogen in salt caverns. Further, we have leveraged best practices of other operators of salt cavern storage facilities to further assure regulators and other entities involved about the safety of this project. Additionally, we have engaged with multiple environmental non-governmental organizations (NGOs), the general public, and other key stakeholders at an early project stage to discuss the benefits of this project and gain support by this community.
What learnings can other projects take away from your experience?
Technical and economic credibility comes first. A full de-risking of a large-scale project which ultimately aims at securing binding off-take commitments requires first of all a convincing project development concept as an "entry ticket" to meaningful commercial discussions – such as front-end engineering work, site control at a strategic location, progress in permitting processes or testimonials of political and public support. In the case of the Advanced Clean Energy Storage project, the fact that the salt dome had been extensively explored and had five existing caverns provided very important and significant de-risking of the salt. This work also provided existing trusting relationships with the local energy community, as well as, city-, county-, state-, and federal-stakeholders. These accomplishments in project development have themselves attracted a growing number of interested customers. This approach required our companies to invest capital into the project prior to securing off-take commitments. Without this upfront investment to de-risk the project, advance development, and reduce costs, the ability to have meaningful dialogue with potential off-takers is reduced.
Overall, the key success factor is to convince outside parties about the importance of such hydrogen projects and to especially elaborate on the benefits of the projects and the key contribution it makes to mitigate climate change. It is essential to highlight that the stakeholders are part of a global solution to one of the greatest challenges the world faces today.